Diecast Alfa Romeo
✔
A lot of different brands
Do you want a diecast Alfa Romeo to add to your collection of miniature sports cars? We at Art-Toys have what you are looking for. Our Alfa Romeos date back to one of their very first cars. Furthermore, we also have diecast police cars, race cars and vans from Alfa Romeo in our assortment.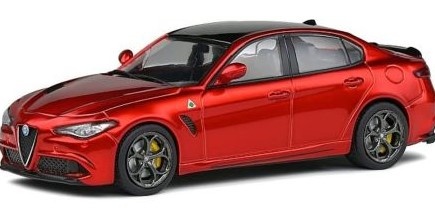 At the end, your diecast Alfa Romeo wins the race
Alfa Romeo have a very long tradition of race cars. It is active as a race team since its establishment in 1910. Their successes also lead to the creation of other race teams, such as Ferrari, whose founder started as a driver for Alfa Romeo and only after his career started with his own racing team. Alfa Romeo won a lot of races in the beginning of their existence and also dominated the first two years of Formula One. It also delivered its motors to other teams, like Mercedes does nowadays. Because of its long tradition in the Formula One, the diecast miniature Alfa Romeos are very iconic. They are very luxury miniature cars and we have different shapes and models available in our shop. Alfa Romeos were also very popular with the Italian government and police, which explains why we also have a lot of those cars in a miniature version.
Relive the good old times
Are you a diecast Alfa Romeo lover from the very beginning? Don't hesitate to contact us for extra information about your desires or your offer. We will soon be able to add the iconic Julia GTC Touring cabriolet from 1964 and the 6C 3000 Superflow I Pininfarina from 1956 to our collection. Have you found what you're looking for? Place your order online. We accept almost all kinds of payment methods.