SCIMITAR BY BROOKS STEVENS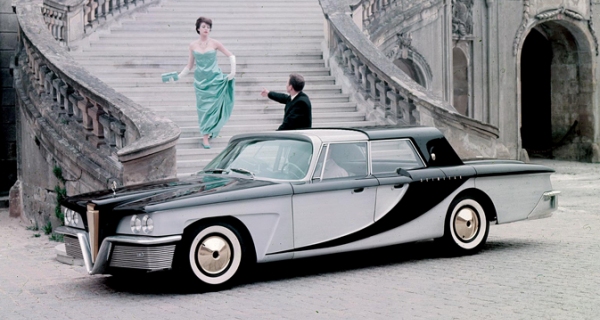 Meet three of the wilder dream cars from the thick portfolio of designer Brooks Stevens: the 1959 Scimitars.
Industrial designer Brooks Stevens (1911-1995) might be best remembered today for the clever, low-cost product makeovers he performed for the independent automakers, including the Willys Jeepster and the Studebaker Hawk Grand Turismo. But every now and then, Stevens allowed his talents to run free with more wide-open and speculative projects. One of his wilder creations was the Scimitar—actually, a series of three cars he produced in 1959 for the Olin Mathieson Chemical Corporation, a mining and chemical company.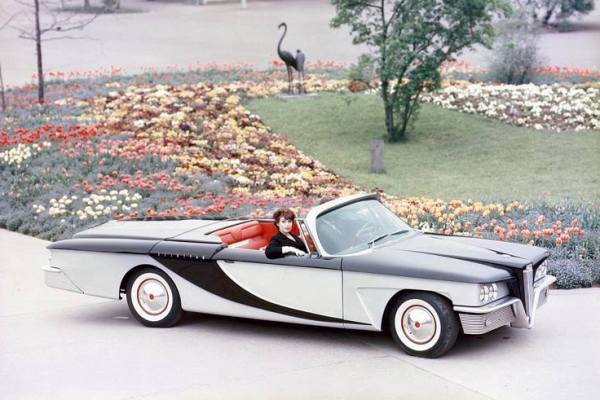 Olin, whose chairman Thomas S. Nicholson was a friend of Stevens, had entered the aluminum business in a big way in 1956, and the Scimitar project was conceived as a marketing vehicle for the company's metal products. (Thus there was no direct production intent per se.)  All three vehicles were built on 1959 Chrysler New Yorker chassis with 413 CID V8 engines and Torqueflite automatic transmissions, in three distinctive body styles: A two-door Hardtop Convertible, a Town Car Phaeton, and a sliding-roof station wagon called the All-Purpose Sedan.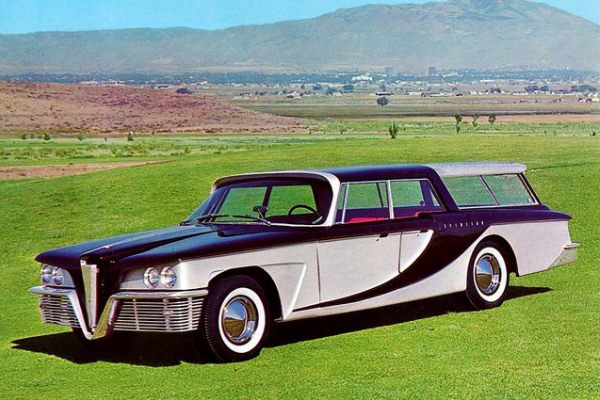 The bodies, crafted for Stevens by Karosseriewerk Reutter of Stuttgart, Germany, each boasted eye-catching transformable properties. The Hardtop Convertible employed a retractable metal top ala the Ford Skyliner.  (Stevens designed a number of retractable hardtops, including the Paxton and the Gaylord.) The Town Car Phaeton could be configured as a limousine, an open-front town car, or as a completely open six-passenger phaeton. The All-Purpose Sedan incorporated a sliding roof panel over the cargo area, a feature Stevens would later adapt for the Studebaker Wagonaire.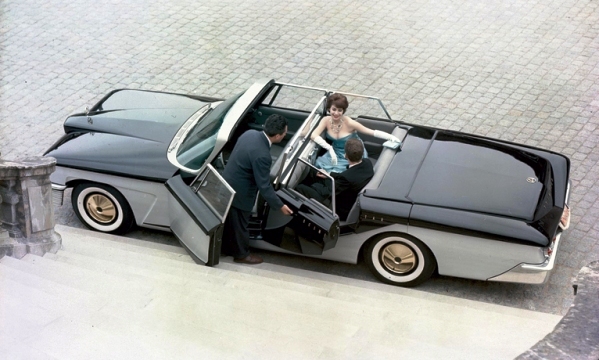 Shown above is the Town Car Phaeton in full open-car mode with both the front and rear roof sections stowed away and dual windscreens for the passengers. The New Yorker's 127-inch wheelbase and torsion-bar suspension provided Stevens with a roomy and stable platform. Windshield, instrument panel, steering column, and electrical system are '59 Chrysler as well. Naturally, all three bodies made extensive use of aluminum components, although the basic structures were steel.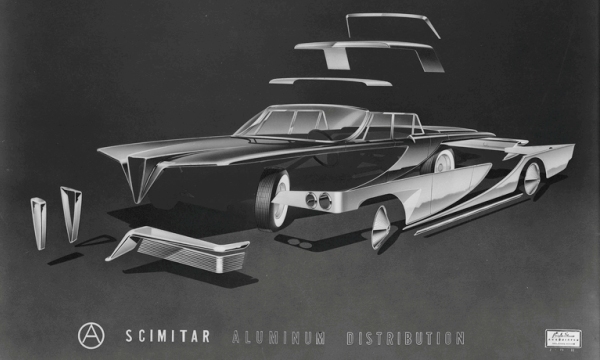 The rendering above from Brooks Stevens Design Associates illustrates the potential automotive applications for aluminum as demonstrated in the Scimitar prototypes. Additionally, the Town Car Phaeton featured a copper-toned grille and wheel covers. As one of America's largest ammunition makers, Olin had tremendous experience with copper and brass.
The three Scimitars made their debut at the Geneva Motor Show in March of 1959, then did the grand tour of the American car show circuit for the next few years. All three dream cars still exist today. The All-Purpose Sedan has a permanent home in the National Auto Museum (the former Bill Harrah collection) in Reno, Nevada, while the Hardtop Convertible and Town Car Phaeton reside in private collections.